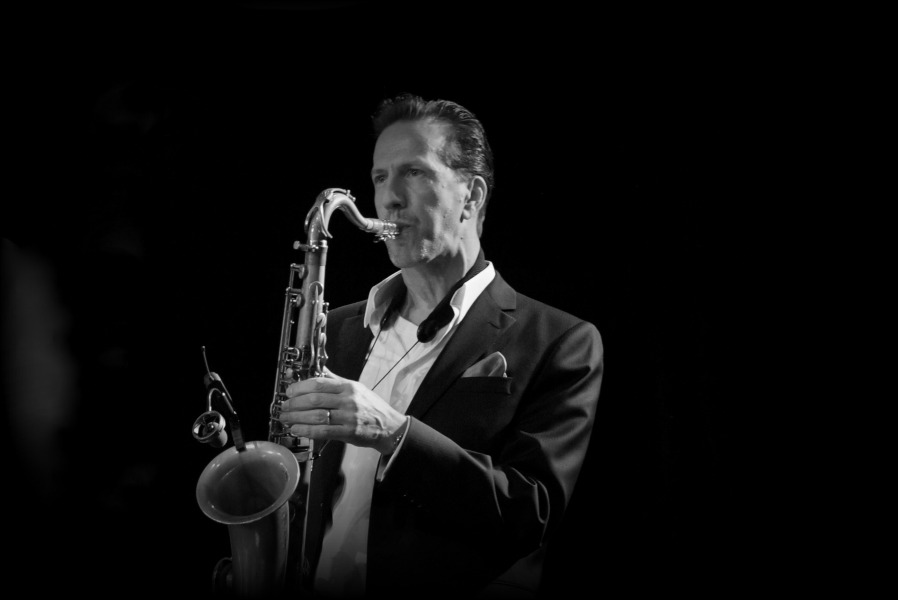 Graham grew up in an environment where the prominent names of stage, screen, and music were household names. With strains of the great American songbook floating throughout the house, Graham became increasingly interested in the Progressive Jazz movement of the 1950s. This "Cool School" approach to jazz blended elements of structured classical music with improvisational post-war bebop.
Grahams passion for all-things-saxophone inspired him to pursue a Bachelor of Music degree at UBC.
While at UBC, he studied classical saxophone with David Branter, and benefited from an eclectic mix of everything from 20th century art music to Big Band jazz, symphonic works to the Avant-Garde. During a summer break between academic years, Graham flew to Europe to take master classes with concert saxophonist Jean-Marie Londiex in Nice, France. Soon after music school a variety of professional adventures ensued.
Much to his surprise, Graham found himself in a 1975 Dodge van, traversing the highways and byways of Western Canada in a ska band. That band was "SkaBoom!" This popular dance band brought high-energy 1980s ska to night clubs along the Trans Canada and beyond. The band was chosen to be a warm up act for "The Red Hot Chilli Peppers" at 86 Street night club, and meeting Flea (the bass player) proved to be an otherworldly experience.
Possibly due to his attention to sartorial detail, or his soft manner, Graham was dubbed "The Suave Guy" by his bandmates. The moniker was fixed in place and the persona born (perhaps shades of Bowie's Thin White Duke?). But "Suavey", as he was affectionately known, was already prepared for the rigors of a hard-working road band.
Between the "serious music" student days of UBC and "skanking" with SkaBoom!, Graham enlisted in the Canadian Reserve Force to play for the Band of the Ceremonial Guard in Ottawa. This involved four months of general military training and playing for the Changing of the Guard on Parliament Hill. Landing by helicopter at the edge of an airfield in the dead of night, and performing before thousands in 30° C heat while wearing a scarlet wool uniform and bear fur busby were all part of a day's work.
Back in his beloved Vancouver, Graham busied himself in the local night club scene with record label signed original band "Stigmata", acid jazz band "Pos-e-tiv", and the ever-popular "Powder Blues Band."
While on a live radio date with beatnik poet "Ralph" [Alfonso], of Bongo Beat Records, Graham met multi-platinum selling singer Lee Aaron. The show was a fortuitous meeting of like-minded musicians and a combining of bands was in the offing. A nation-wide tour of clubs, theatres, and universities, including TV appearances, was put together to promote Ralph's books and CDs, and Lee Aaron's freshly-minted jazz albums. Added to this tour was "Teenage Head" crazy man Dave Rave. Graham had ample room to stretch his jazz flute chops. Despite fears of banners reading "Beatniks Go Home", the tour was enthusiastically received — even in Red Deer, Alberta.
Graham maintains a busy performing career, putting on joint productions with his classical singer wife Melissa, and devoting much time and energy to teaching flute, clarinet, and saxophone.
Graham is honoured to be a part of the David Bowie project which remains his focus.